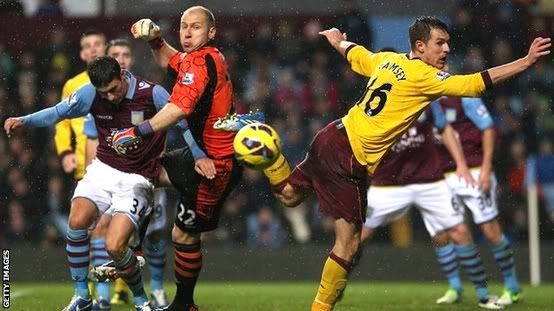 Arsenal are unbeaten in their last five matches with the run continuing in an impressive 5-2 victory against 10-man Tottenham Hotspur at the Emirates, a vital 2 -0 home victory against Montpellier in the Champions League which secured Arsenal's safe package to next year's knockout stages, and then the 0-0 draw at Aston Villa on Saturday evening. Whilst the draw at Villa Park was seen as disappointing for many, it's still a positive run of form for the Gunners who have suffered from a lack of consistency so far this season.
Arsene Wenger takes his side to the blue half of Liverpool on Wednesday evening to face an Everton side that have been struggling a little of late after making a fantastic start to the season. A Victory for the Gunners would see them pass the Toffees and move into fifth place. Arsenal then host Swansea City on Saturday afternoon, before travelling to Greece to face an Olympiakos side that have already secured a consolation place in the Europa League. Arsene Wenger will certainly look to rest key players for this match, but with group leaders Schalke facing a tricky tie in Montpellier, he will certainly be looking for a win that could just nick the top of the group at the last hour and give the Gunners an important seeding in the knockout stages.
Arsenal Addict
have an intelligent look at the 0-0 draw with Aston Villa and hit out at the reactions of some fans to the disappointing result, there's a detailed look at some of the performances of Giroud, and the Di Matteo sacking at Chelsea has raised the question of patience at the Emirates.
A Cultured Left Foot
also has a look at the reaction of Arsenal fans following the 0-0 draw at Villa Park against a struggling Aston Villa side, there's news of Diaby being out for up to three weeks and Rosicky returning to action, and there's a recap of the great 2-0 win against Montpellier that wrapped up Arsenal's Champions League knockout round qualification.
East Lower
have more reaction to Saturday night's disappointing 0-0 draw with Aston Villa, and there's analysis of the satisfying 5-2 victory against bitter North London rivals Tottenham Hotspur week before last.
Finally a big shoutout to
Gunner Blog
who sit fourth in our
Top Blogs Ranking
this month as the best of our Arsenal Top Blogs!
GUNNERS: More Blogs | Latest News | Submit Blog