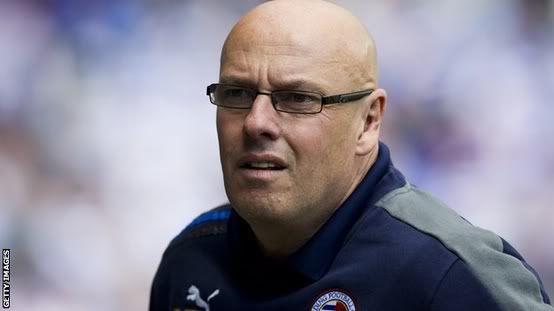 Reading currently find themselves occupying the final relegation place, but with a game in hand against an equally suffering Sunderland, and a three match unbeaten run, Brian McDermott certainly has good reason to be the happiest of the bottom three club managers. The Royals played out an entertaining 0-0 draw with Norwich City at the Madejski Stadium last Saturday afternoon, and that followed a well-earned 1-1 draw with Queens Park Rangers the week before. Whilst Brian McDermott's side have done enough to keep in touch with the group of clubs that all find themselves in the bottom third of the table, they have not done enough to make their own bid for freedom from the dreaded drop, and this is what will be concerning fans. It's all good and well being difficult to beat, picking up draws and narrowly losing matches, but Reading have to start winning games else they'll make an immediate return to Championship football.
Reading made history in the Capital One Cup, by becoming the first ever club to score five goals and still get knocked out, in the thrilling 7-5 defeat to Arsenal two weeks ago. Incidentally, that record stands in both League Cup and FA Cup. Whilst Brian McDermott will certainly not appreciate the nature of their defeat, as his side were 4-0 up at one point, he will most likely not be too disappointed with his team's sole focus now being the Premier League, or at least until January. Everton are next, that match at the Madejski Stadium on Saturday afternoon, before the Royals travel into the West Midlands to face both Wigan Athletic, next Saturday, and Aston Villa the following Tuesday night. Needless to say, Reading must avoid defeat in both those away games with fellow strugglers, but the longer it takes them to get their first win on the board, the more difficult it will be for Brian McDermott to get them believing that they can avoid the drop and push on up the Premier League table.
Reading FC News
have details of Reading skipper Jobi McAnuff insisting that confidence in the camp remains high, apparently Pavel Pogrebnyak would like to see fellow countryman Andrey Arshavin secure a January switch from Arsenal to Reading, and there's reaction to the 0-0 draw with Norwich City.
Reading Mad
have analysis of the 0-0 draw with Norwich City, Reading's first clean sheet of the season in all competitions, and indeed only the third time all season they have failed to score, and there's word from Brian McDermott who believes his team can turn around their fortunes.
Vital Reading
have details of Reading striker Pavel Pogrebnyak being happy at the club following his move from Fulham in the summer, and there's more reaction to the point picked up at home to Norwich City.
Finally a big shoutout to
The Tilehurst End
who sit seventeenth in our
Top Blogs Ranking
this month as the best of our Reading Top Blogs!
ROYALS: More Blogs | Latest News | Submit Blog